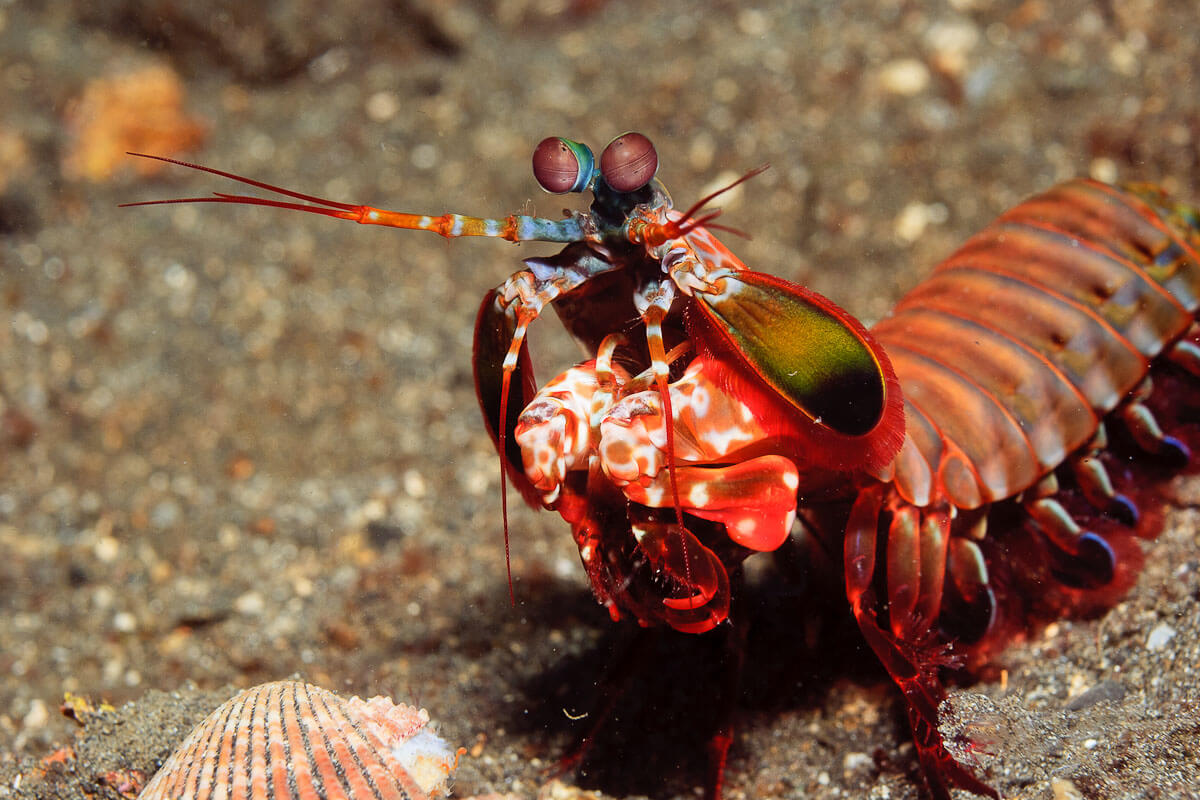 FREQUENTLY
ASKED QUESTIONS
Is it worth coming to Nusa Penida for a day?

Nusa Penida is a big island with lots of spots and sights to enjoy both on land and underwater. To our friends and family we always recommend to spend at least 2-3 nights in Nusa Penida. That will give you enough time to actually enjoy the island and beat the crowds for the best spots.
How do I get to and from Nusa Penida?


Getting to Nusa Penida from Bali is easy. Normally takes 30-40 minutes by a comfortable speed boat. There are plenty of boat companies going to Nusa Penida from Serangan Island and Sanur beach. Most of them include a pick up and drop-off service into the price, though not online. You can either take care of that yourself or ask us to do it for you. Check www.penidago.com for available options.
There are two harbours in Nusa Penida – Toyapakeh and Sampalan. We are literally in the middle between them, so it does not really matter which one you are arriving to or departing from.
Another option is booking a Dive & Stay or Learn & Stay Packages with us and letting us do all the hard work for you.
Getting around Nusa Penida?


Nusa Penida is a beautiful island with lots of spots that are an absolute must to visit. Roads were completely renovated around Penida, so getting around by yourself is totally fine. If you are confident driving a motorbike or a scooter it's very easy to rent one right next to any of two harbours (Toyapakeh or Sampan) the boats from Bali are arriving to. Make sure you get yourself a helmet if you rent a bike or a scooter.
Another option is renting a car with the driver to take you around the island which will be more costly, but hey, when was the extra comfort cheap?
What about accommodation?


We are building the accommodation for you at the moment. However, finding accommodation within literally walking distance (1 to 10 minutes strall) from Pure Dive Resort facilities is super easy. We usually recommend Ring Sameton Hotel  to our guests, but there is plenty of other options around. Use one of many available online booking systems to find the one that suits you best or ask us to assist you in booking one.
Another option would be to book your Dive & Stay or Learn & Stay package with us and let us take care of your accommodation, transfer etc.
Do I need travel insurance?


We see life as a journey with a possibility of some turbulence.
Indonesia is a stunning country with jaw-drapping nature both on the surface and underwater. However the whole 17,000++ (yes, you've read that one right) tropical islands archipelago sits on the so called Ring of Fire, which is a zone of seismic activity.
In order to minimise the impact of the rare but still possible surprises of Mother Nature, we strongly recommend you to have your travel and medical insurance sorted.
When is it the best time to dive Nusa Penida, Lembongan and Ceningan?


Good news is diving generally great the whole year around Bali and Nusa Penida!
Water is normally a bit colder May to November, sometimes dropping to 18-19 degrees Celsius around August-October, however the visibility is normally a bit better within this time of the year.
Diving from December to April is fantastic as well, due to way warmer water temperatures (average 26-28 degrees Celsius).
What is so special about diving in Nusa Penida, Lembongan and Ceningan?


Well, we at Pure Dive Resort do believe that diving in Bali and specifically Penida can be called world-class.
Healthy coral reefs, abundance of tropical fish, occasional sharks, regular turtles, drift dives along spectacular coral slopes and walls, awesome macro and, of course, the main highlights – manta rays and mola-mola (ocean sunfish). That briefly describes our daily routine. Come and see for yourself!
Can I dive with you if I'm staying in Bali?


Our goal is to provide quality service to our guests, this is the reason why our boat leaves for the morning dives at 8 a.m. If you are not staying on Penida or Lembongan, you cannot make in time. The first boat from Sanur departs at 7 a.m. earliest, the crossing usually takes 40-50 minutes. To beat the crowds and enjoy the morning dive (especially for Manta Point), you need to stay in Nusa Penida.
What are my chances to see Manta Rays?


Manta Rays are definitely one of the main attractions for divers and snorkelers in Nusa Penida. Diving with these majestic animals is an unforgettable experience making it to the bucket list of virtually every diver. Manta Rays are spotted on a regular basis at 2 main dive sites – Manta Bay and Manta Point. We'd say, that with a tiny bit of luck the chances to spot them far exceed average. However the side of the island they are coming to clean and feed is facing an open ocean, thus making diving there very weather dependant. Normally we can tell if we can make it there 3-5 days prior to the trip at the earliest.
Good news is that you can see Manta Rays the whole year round provided the ocean conditions are good and we can actually make it there.
What about Mola-Mola?


Mola-mola or oceanic sunfish, along with manta rays has been attracting divers to Bali and specifically Nusa Penida for years. There are chances to see a mola-mola on basically any dive and any time of the year, though the best chances are between July-October. Thanks to the upwelling currents this deep-see pelagic dwellers are brought closer to the reefs around Penida where they get cleaned by various species of reef fish.
Most of the sightings take place at depths below 20 meters, so having your PADI Advanced Open Water Divercertification or equivalent is a necessary minimum if you seek to find those elusive creatures.
When can I fly after diving?

Please allow for the sufficient surface interval before you take a flight after your last dive. We'd recommend you to consider planning your flight no earlier than 24 hours after your last dive.
Let us know your flight time so we can adjust your booking accordingly.
Where is the beach?


Good news! The beach is literally across the road from us.
All beaches in Bali are open to public, you are free to enjoy any beach.
Usage of the facilities on the beach (sun beds, umbrellas, etc.) might be paid though.
Be very careful swimming in the ocean, as there are no lifeguards.
What are my food options?


Our cafe and lounge are being built right now.
There are plenty of food options around us. If you fancy local food – Warung Pondok is right across the road from us. Great choice of local specialities, their fish dishes are particularly good.
New venues are opening literally every week, so we are sure you'll find something to your liking within a walking distance from us.
Ask us about our preferences after we come back from diving – we'll be happy to share our preferences.
What about religion and culture?


Indonesia is the country where Islam is the major religion.
Bali province, which Nusa Penida is a part of, is populated mainly by Hindus.
Religious ceremonies are integral part of everyday life in Nusa Penida as well as Lembongan, Ceningan and Bali.
Simple respect and understanding towards local cultural traditions will make your travel to Bali easy and stress free.
Do not enter the temples without permission and with your knees and ankles exposed.
Ask permission before you make a picture or video of people.
Be polite and smile! From our experience that's enough to make your stay in Bali absolutely gorgeous.
Is alcohol allowed in Nusa Penida?

There are no existing bans on alcohol in Bali province.
Beers, ciders, wine as well as liquors and cocktails are served at almost every venue on the island.
Import taxes and fees for locally made alcohol are quite high, though.
That's the reason you should not expect super cheap drinks anywhere on the island.

Money and ATMs?


The national currency of the Republic of Indonesia is Indonesian Rupiah. We normally use www.xe.com to check the exchange rates. There are several ATMs on the island, though sometimes they are out of cash.
Exchange rate is usually better in Bali. Cards (Visa and MasterCard) are accepted in several venues around the island. Normally there is a credit card surcharge that fluctuates between 2 and 3 per cent of the charged amount. We do not charge you anything extra if you're paying with debit/credit card or PayPal.
You can read about our Booking, Payment and Cancellation Policies here.